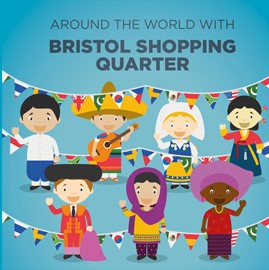 Around the World Flag Trail with The Arcade
---
Bristol Shopping Quarter and the Arcade have got your summer plans already set up. The ever-popular Around the World Flag Trail is back and bigger than ever! With a huge of range flags to go out and search for between 22nd July to 2nd September, you'll most certainly be out and about this summer!

All the activities in this year's flag trail are FREE and you really won't want to miss out on any of them! If you find at least 25 flags and enter the names of the relevant countries on your passport, you can enter a prize draw to win a fantastic prize.
You can complete you prize draw by dropping your completed passport into a number of different shops in the Broadmead area including Bakers Dolphin, who will be involved in the trail, as will other Arcade stores such as EK Hair and Taste of Napoli.
Events each Tuesday from 25 July to 29 August will continue the Around the World theme. Expect a celebration of all things Australian the first week with Hawaii, Mexico, Kenya, Japan and Jamaica to follow.
Thursdays 27th July; 3rd, 17th and 24th August the centre will host a series of English country garden themed craft activities. Young shoppers will have great fun painting sun catchers and garden gnomes, decorating pots, making wind catcher mobiles and bird feeders, and will be able to take the results of their work home.
Following a successful inaugural event in 2016, the Tour of Broadmeadwill return to Bristol Shopping Quarter this summer. Inspired by the Tour of Britain, the static bike challenge will see representatives from eight different good causes trying to replicate a stage of that tour each day, with plenty of help from retailers along the way.
Starting in Marks & Spencer on Saturday 29 July, when the Lord Mayor of Bristol will shout out "Ready… steady… go!" to officially start the event, the tour will move to a different location at the end of each day, ready for the next charity to start pedalling first thing in the morning. It will finish at PureGym Union Gate on Saturday 5 August.
The first Tour of Broadmead raised £3,700 and the BID team are hoping to exceed that this year.
The charities taking part include Southmead Hospital Charity and British Red Cross London Fire Relief Fund with further announcements due soon.
Key dates:
22 July to 2 September – Around the world flag trail (Broadmead, Cabot Circus & The Galleries)
25 July – Australia Day (Broadmead)
27 July – In the potting shed (The Galleries)
29 July to 5 August – Tour of Broadmead Two (various locations)
1 August – Hawaii Day (Broadmead)
3 August – Catch the Wind (The Galleries)
8 August – Mexico Day (Broadmead)
15 August – Kenya Day (Broadmead)
17 August – Feed the birds (The Galleries)
22 August – Japan Day (Broadmead)
24 August – Give a gnome a home (The Galleries)
29 August – Jamaica Day (Broadmead)
For any further information, check out - bristolshoppingquarter.co.uk or connect with them through their Facebook channel.
---
Back