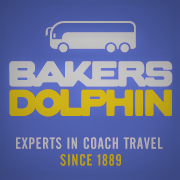 Bakers Dolphin Incredible New Summer Holidays
---
Bakers Dolphin in The Arcade Bristol has been a staple of summer holidays in the city for quite some time now, and now they have released their latest batch of amazing new destinations for you to make the most of your summer this year!

They have announced some pretty outstanding destinations this year, so if you are looking for a cheap holiday, whilst also enjoying some incredible experiences, why not check out some of the following.
GOLD Hotel Drago on Garda's Elegant Eastern Shores
GOLD Sunshine Spain including Barcelona
Cities in the Heart of England
View the Summer Brochure online for all the amazing options.
Bakers Dolphin is a coach and holiday company with a strong ethos and great deals every day. The store is highly accessible, placed right in the middle of The Arcade, and has only recently opened! Already, the shop has been teeming with interested customers, eager to have a look at what the new shop can offer, and a ceremony with Miss Bristol 2016 saw the store open in style.
Bakers Dolphin has a long and rich local history, one that stretches back to 1889, when the Baker family set up a pony and trap transportation business, carrying anything from people to Royal Mail post. Their trade began in Weston Super Mare, and slowly grew to be a business of great local value, which now specialises in coach trips and holiday packages across the UK and Europe.
So what are you waiting for! Get your next big adventure planned now!
For any further information head to bakersdolphin.com or connect with the guys through Facebook and Twitter. Their address is Unit 28, The Arcade, Broadmead, Bristol, BS1 3JD
---
Back