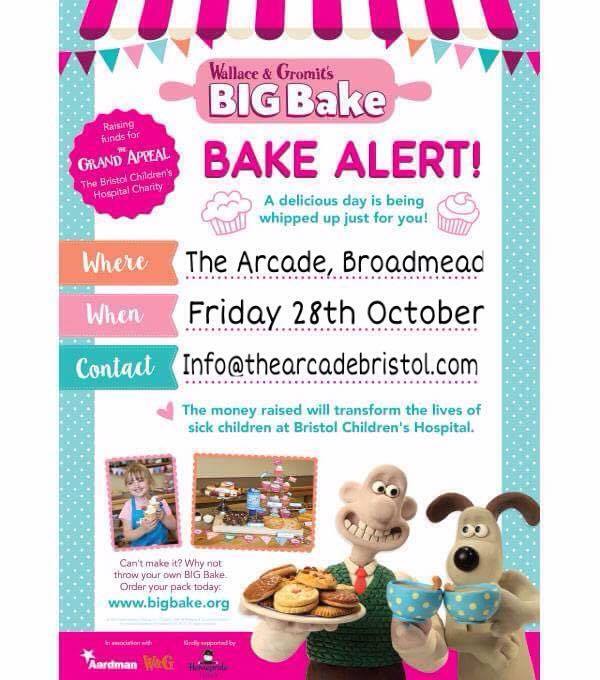 BIG Charity Bake Sale at The Arcade
---
The Arcade will be hosting a BIG Bake Sale on the 28th October to support Wallace and Gromit's Grand Appeal, a wonderful local children's charity close to our hearts.
Here at The Arcade we like to give back to the community of Bristol which has given us so much, and are hoping the support for this event will be big! On the day you can join us and support the cause by buying some of our delicious freshly baked cakes! We'll be whipping them up all morning, so pop in any time between 11am and 3pm for a big slice! Bring along family and friends, and especially kids who will get to meet Wallace and Gromit themselves!
The Aardman Animations heroes will be at The Arcade in person, taking photos with anyone who wants one, and handing out cakes. We are sure your children will be enthralled by these loveable cartoon characters – not to mention the cute little cupcakes on offer… Don't forget to spread the word, and connect with us on Facebook and Twitter – using the hashtag #BIGBakeArcade
Wallace & Gromit's Grand Appeal works to transform the lives of sick babies and children at Bristol Children's Hospital. Since 1995, The Grand Appeal has raised over £40 million to support patients and their families.
While you are here, why not visit one of our many child-friendly shops, including central Bristol's ONLY children's hairdresser! There's also a vintage sweetshop that young and old can enjoy, and Fantasia toy shop where kids can find all their favourite characters on all manner of merchandise and games.
If you want to get involved or want to learn more about the charity, email info@thearcadebristol.com, or visit the Grand Appeal website.
---
Back