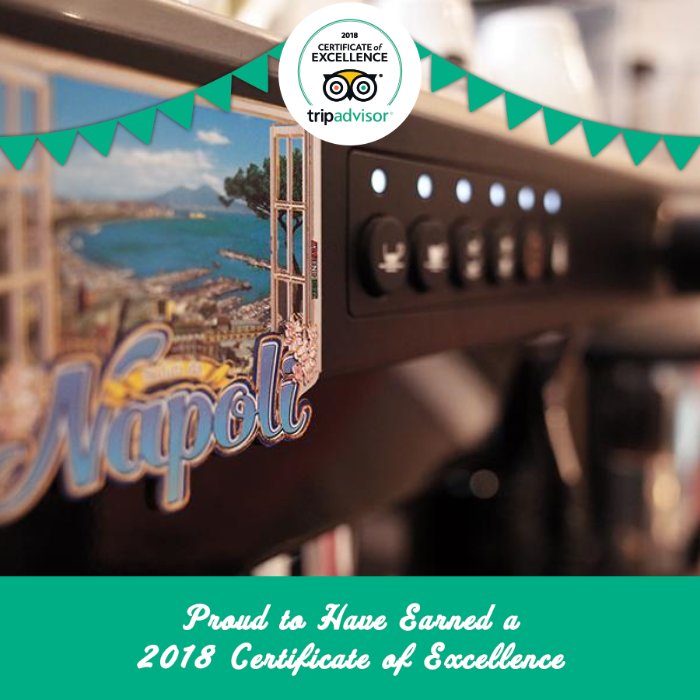 Taste of Napoli given top TripAdvisor certificate
---
Taste of Napoli at The Arcade has been awarded with a TripAdvisor Certificate of Excellence for 2018.
TripAdvisor is known globally as one of the most influential review sites for customers.
Now delighted customers visiting Taste of Napoli at The Arcade have written so many favourable reviews that the site has awarded the Italian and Neapolitan food outlet with their highest possible certification.
It's clear that the vast majority of the 84 reviewers who told TripAdvisor about their experience at Carmine's place thought they'd tried something special: Taste of Napoli was top-rated for 'Value', 'Service' and, of course, the food itself.
Astonishingly, 95% of reviewers rated their experience as 'Excellent'.
Having sold their family home in Italy, Carmine and his family moved to the UK and soon noticed that there were limited options in Bristol for those in the city who love Italian food.
Being proud Neapolitans, they decided that Bristolians would not only love another authentic Italian experience but also appreciate the chance to try less common Neapolitan food, too.
That has proved to be a great idea, and Taste of Napoli is now one of the most popular places for coffee or quality quick bites to eat in Broadmead.
It's also become a popular destination for Italian expats who have made Bristol their home, which is possibly the best indication of how authentically Italian and Neapolitan Carmine's food really is.
Taste of Napoli sits alongside Wok Boxstix, The Crazy Fox, Shakeaway and Rollin' Vietnamese among some of the best outlets serving food in the city centre, at the heart of independent shopping in Bristol.
---
Back